Event Screen Hire of Top-Rated Type
In the LED screen field, event screen hire has become a hot branch. It has been widely applied in stage, product launches, trade shows, disco-bar, etc. There are many different types of LED stage screen rental, and they could be used outdoor and indoor. For instance, 3.91 mm, 4.81 mm, and so on. They could be also called portable LED display, as it is lightweight.
PH3.91 could be regarded as one of the hot-sale types these several years in event screen hire, because of its high resolution and the modular size with W 500 x H 500 mm or W 500 x H 1000 mm. With either of these two sizes, clients could assemble many various screen sizes as what they want. And one more exciting improvement is it could be made as a curved LED display with this modular size. It could be adjusted at 2.5°, 5°, 7.5°, and 10°. And the common screen size required among most customers is W 4 x H 3 meters, with a standard definition of W 1024 x H 768 pixels. Such a big screen hire price is not high, but it is acceptable among most clients.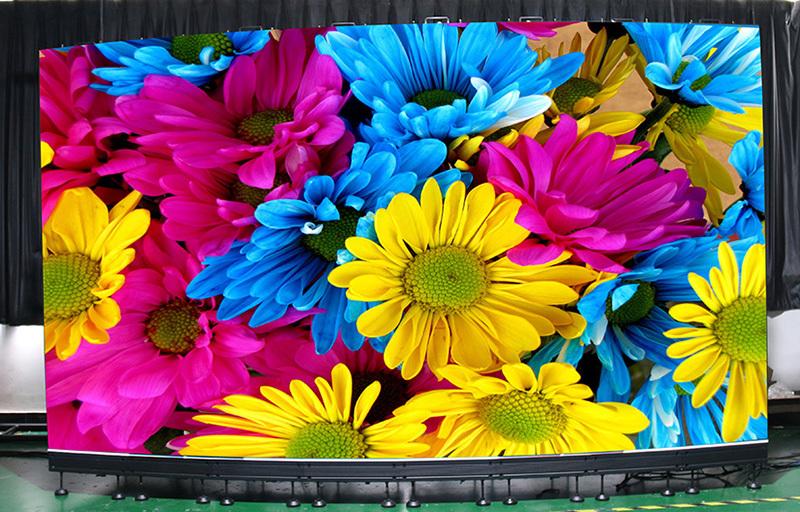 Event Screen Hire Advantages
☛The weight is light. For such a stage screen rental LED panel with 500x500 mm, curved, the weight is about 9 kg/pc. And it is outdoor use, IP65 waterproof in front.
☛The assembly and disassembly are easy and fast. With the quick locks, it takes about 10 seconds to assemble one LED panel by one single person.
☛The design is with a thin width. Generally, the thickness is only 8.5 cm or even less, with a better appearance. For the curved LED display with radiant lock, its width is a little bigger, about 10 cm.
☛It could be assembled in different methods, like hanging type, stacking on the ground, inserting on the wall, and so on.
☛ Many types of input signals could be achieved. With the video processor equipment, different input signals like HDMI, DVI, VGA are no problem to be got.
3.91 mm Event Screen Hire Project
For P3.91, its screen resolution is 65,536 pixels per square meter. Each LED module is W 64 x H 64 dots, W 250 x H 250 mm size. It is with 1/16 scan constant current. The outdoor type is about 4,000 nits for LED stage screen rental. The die-casting aluminum cabinet is W 500 x H 500 mm, W 128 x H 128 pixels, 4 pcs LED modules to compose. The cable connection inside the cabinet is few, which could improve the stability of the whole event screen hire. The refresh rate of this type could be at least 1,920 Hz. With high refresh-rate drive IC, it could be increased to around 3,840 Hz, which could show the perfect image or live broadcast even with the camera. The power supply used is Meanwell, with CE/UL/CB standard.
Welcome to inquire more information for big screen hire price.