LED Screen Indoor Advertising
LED screen indoor is everywhere. You could see it in the shopping plazas, in hotels, in restaurants, in the meeting rooms, in the airport, and so on. With an indoor LED display, you could pass what you want to express to your potential clients. This, to some degree, could bring you more customers.
Nowadays, there are many different indoor types. The popular type from these two years is the HD LED display, or we could say a small pitch LED display. This refers to types like P3, P2.5, P2, P1.8, P1.6, P1.2. The smaller the pixelpitch, the higher the resolution per square meter. For instance, the resolution of the P3 type is 111,111 pixels per square meter, while it is 160,000 pixels for P2.5.
LED Screen Indoor Specifications
For the LED screen indoor here, it is with a 2.5mm pixel pitch. This means the distance of the two adjacent LED lamps is 2.5mm. The screen size of this HD LED wall is W 3.2 x H 2.08 meters, with total resolution W 1280 x H 832 pixels. It is with stable quality LEDs. When we say stable, it means the LED lamps are not easy to be defective like getting dead after few month operations. For PCB used of this P2.5 LED module, it is a four-layer board and covered with much copper foil. This is good for heat ventilation. The LED panel sizes are W 640 x H 640 mm and W 640 x H 800 mm. This is a front maintenance LED wall, so LED modules, power supplies, and control cards could be maintained from the front. Each LED panel is equipped with 4 pcs receiving cards. This is to improve the refresh rate. There are 4 pcs Meanwell RSP-200-5 power supplies in each LED panel, fanless. It is with CE/UL/CB standard. HDMI, DVI, VGA could be got, as there is a video processor equipped. For this P2.5 LED screen indoor, a 10 KW power box is equipped also. It is to control the whole electric circuit. Besides, the OBO lightning arrester is added. This is to protect the LED display from defecting because of thundering during rainy days.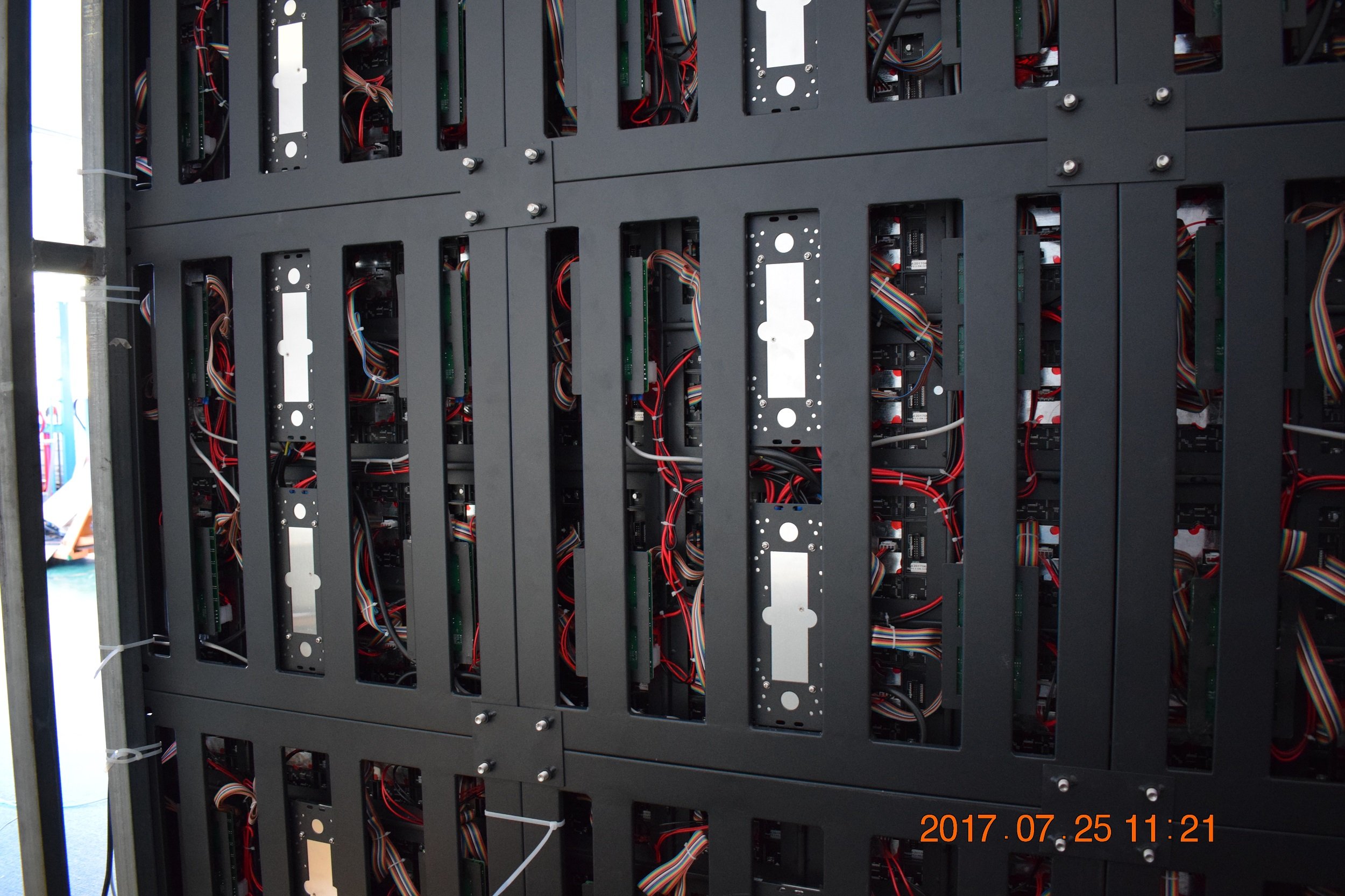 LED Screen Indoor Features
☛Seamless connection. Compared with LCD, this is an obvious advantage for LED screens.
☛Relatively high luminance. The brightness of LED displays is higher than that of LCD. This could make sure a better viewing effect.
☛Modular size. The LED screen could be made with any size, even a 16:9 ratio.
☛High resolution. As the technology of small pitch LED display is becoming mature, it could achieve 4K or even 8K effect.
☛Easy maintenance. If there is one LED module effective, you could take it off and repair only this LED module.
LED Screen Indoor Conclusion
As there are many cases which are installed with LED screen, we believe the future of LED screen indoor or outdoor would be much more commonly seen, and more choices could be done then.